CONGRESS VENUE
2 potential locations
Le Nouveau siècle,
17 Place Pierre Mendès France, 59800 Lille
IMT Lille Douai
Cité scientifique
Rue Guglielmo Marconi,
59650 Villeneuve d'Ascq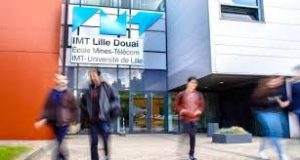 ATTRACTIONS LILLE
Discover the diversity of Lille's heritage: the « Palais des Beaux-Arts », the 2nd most important museum in France. The belfry of town hall, a UNESCO World Heritage site, the fortification of « La Citadelle » built during the reign of Louis XIV,    The « Notre-Dame de la Treille » cathedral, the Louvre Lens museum and  more.
In 2020, Lille Métropole was the first French metropolis to become the World Capital of Design thanks to an innovative project : transforming its territory through design.
On the program : exhibitions, events, theme tours, meetings with designers, not forgetting many festive, urban, educational events.
Your stay at Lille will be a great opportunity to discover the famous local restaurants ''Estaminet'' that will offer you regional gastronomy : Welsh, Maroilles … And do not forget the French pastry !